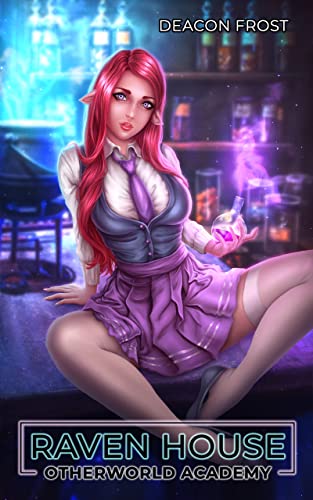 Levi Walker was just a regular college student until a hilariously uncomfortable encounter with his roommate led him to storm out of his dorm—straight into the path of a delivery truck.
And well, all anime fans know what happens when you meet Truck-kun.
Now he's been reincarnated with magical powers at Otherworld Academy in the land of Taryl, where he and other magic-wielding students from other dimensions must harness their abilities to fight off the monstrous Horrors that threaten all their worlds. It's a jarring transition to make …
But then, all the sexy girls at his new school make it a whole lot easier.
I knew I was going to like Deacon Frost's Raven House (Otherworld Academy #1) the moment I saw Truck-kun named in the blurb. Truck-kun is not an actual character in the book, beyond its pivotal appearance in the first scene, but any author who can name one of the most iconic trucks in all of anime obviously knows their isekai tropes.
That said, if you like isekai adventures, you're in for a fun ride.
Otherworld Academy reads like the glorious product of a drunken late-night con chat between authors where one asked "What if Harry Potter got isekai'd off to a sexy steampunk college and also discovered he was really into Pokemon and also collecting girls?" It's more Harry Potter than Pokemon, given its magic boarding school setting and cross-dimensional high stakes, but when it's revealed that reincarnated Levi has a talent for monster taming and gets a set of magic items that are basically steampunk Pokeballs, the monster collecting nerd in me squealed a little bit. (Okay, a lot.)
It's a harem book, so naturally Levi collects ladies as enthusiastically as he does monsters, but it stands out from other harem books in that its women contribute something other than sexiness to the plot. Each helps Levi learn to master his powers and place in this world in their own (not even necessarily sexy) ways, and eventually he discovers a legitimate reason why he should pair up with multiple women (relating to the mechanics of his magic).
On the spicy end, there's plenty of spice, and it's hot—but the characters and world are so well-defined that honestly it could stand on its own without the spicy scenes. (And they are mostly skippable for people who want story over sex.)
To be honest, while the spice is great, the world and characters are where Raven House excels. Its approach to magic is interesting and twofold; mana in this setting can be processed into vapor and burned in a way that effectively turns it into fuel, and the magitek nerd in me enjoyed reading about the intricacies of this process. People, of course, have access to magic, too, and since everyone at this school is from a different dimension with different magical practices, there are a wide variety of ways for students to harness their magic, which makes for cool, eclectic battle scenes, especially toward the end.
In terms of the world itself, we don't get much of a look into the other dimensions in this book—this volume is largely the story of Levi getting used to his new world—but some details here and there, and especially the climactic conflict of the book, hint at a complex array of interdimensional politics and problems just waiting to spill onto Academy grounds in future books.
Levi himself is a likable and relatable protagonist, fascinated by his new abilities and body while being reasonably frustrated by the practical things he now has to get used to. (He had good eyesight in his old body, for example, whereas his new body needs glasses.) Also, while he has his headstrong moments, he's never audacious enough to be outright stupid, and mostly uses his power to stick up for his motley band of friends when bullies from other houses come to pick at them. (Otherworld Academy divides its students into magically-themed houses, Hogwarts-style.) He's also noble enough to stick up for redeemable enemies once he learns more about their situations, though the absolute baddies get knocked on their asses when they deserve it. Cupcake-obsessed elf Nox Willowbrook makes for a fun companion, both in magic and … other things, and dark elf house mistress Tawny Goldenrod makes for a ferocious presence, both on the battlefield and … elsewhere. Another notable character is Glint Scrim, a swamp imp and vapor engineer who's such a nerd for his subject matter that his enthusiasm is absolutely infectious (and one of the reasons why the magic systems come across so well).
Of all the characters, though, Zuzan is best girl.
Overall, if you're looking for a fun, magical academy adventure with a steampunk vibe and steamier sex, Raven House (Otherworld Academy #1) is a great place to start.