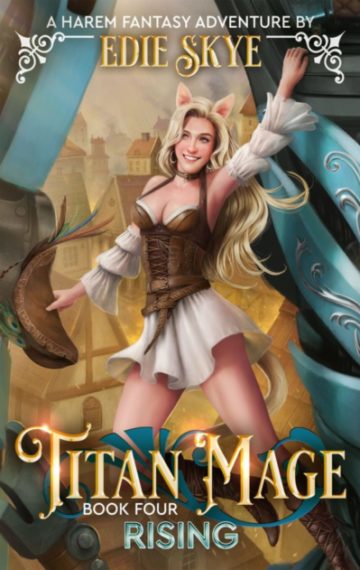 Preorder Now
$4.99
Buy Now
Read A Sample
See The Reviews
See The Full Series
Buy The Audiobook
Narrator:

Daryl Mayfield, Jess Trepanier

Available in:

Kindle, Kindle Unlimited, Audiobook, Print

Pages:

392

Duration:

11 hrs and 46 mins

Published:

March 16, 2023
Sinister cultists? A catgirl kidnapping? An elite enemy Titan? Sounds like a job for Harper's Harriers!
Locke has finally adjusted to life on the fantastical world of Haven—but with his hot new body, magic powers, and giant mech called a Titan, how could he not? Especially since he flies on a ship full of gorgeous women who call him captain (both of his airship … and in their beds).
Soon he'll have to put all those resources to use because Peth, the incorporeal space witch trapped inside his Titan, has experienced a dark premonition about the Crystal Moon—and in Locke's experience, "weird moon stuff" is just another way to spell trouble.
Which proves prescient when moon cultists show up alongside a terrifyingly advanced Titan wielding all four magical elements. They assault the Harriers' airship and kidnap one of his crew—the shy catgirl Sloan, who has a dark history with these cultists.
Locke is determined not to let any harm come to her, and the Harper's Harriers surge into action. But why do the cultists want Sloan in the first place? How do these events connect to the ever-darkening shadow on the Crystal Moon? And are their Titans powerful enough to take on this new, mysterious foe?
WARNING: Titan Mage Rising is a fun fantasy adventure containing steam both punk and smutty: sensuous airship captains, naughty engineers, shameless mech pilots, mischievous catgirls, and salacious space witches. (So don't read it and then complain about the spice. Y'all know exactly what you're getting into.)