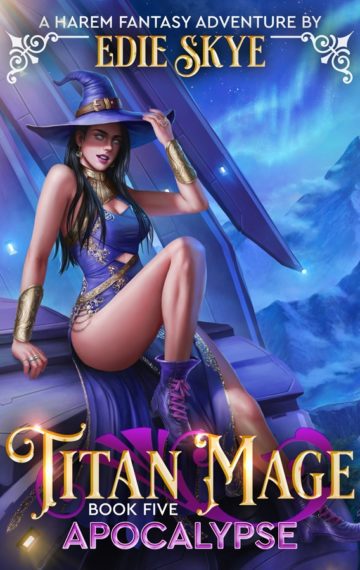 $4.99
Buy Now
See The Full Series
Available in:

Kindle, Kindle Unlimited

Published:

June 15, 2023
A world-ending deity? An ancient superweapon? A fight for the future of Haven? Only Harper's Harriers can save the day!
When Locke came to the world of Haven, he didn't know he'd be called upon to save it one day—but with his god-tier magic, his giant mech called a Titan, and his crew of hot, capable women, he's the best man for the job.
Especially now that his crew includes the Precursor space witch Peth, whose memories of what destroyed her civilization a thousand years ago have come rushing back. Now that same destroyer is about to break free from its prison within the Crystal Moon. To defeat it, they'll have to find and activate an ancient Precursor superweapon.
But reaching the superweapon won't be easy, for Locke must now lead the Harper's Harriers to the one place no one from Haven has gone in over a thousand years:
Outer space.
Has Locke mastered his Titan enough to face his greatest challenge yet? Will his crew, their Titans, and all their epic upgrades be enough to save the world?
He may not know how his story on Haven will end, but between his harem of badass women and the coming battle with a destroyer god, one thing's for sure:
Whatever comes next, he's going to go out with a bang.
WARNING: Titan Mage Apocalypse is a fun fantasy adventure containing steam both punk and smutty: captivating airship captains, alluring engineers, provocative mech pilots, titillating catgirls, and sensual space witches. (So don't read it and then complain about the spice. Y'all know exactly what you're getting into.)